:: Image Management
/ Community Class Information
/ Extensis Portfolio Software
/ Portfolio Software Pricing
/ Sample DAM Web Site

Free Consultation



Authorized Extensis Dealer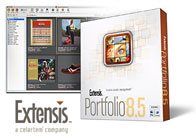 Portfolio 8.5
Portfolio Server
Portfolio SQL Server
Portfolio Web Publish
Mac and Windows

Providing Mission Solutions
Extensis Portfolio
Powerpoint Shows
Brand Standards
Presentation Staging

Contact Us Today
949.735.0101
Info@BrandonService.net
19541 Sierra Soto
Irvine, CA 92603-3840



<! Rule!>
<!...main body !>
| | |
| --- | --- |
| | Image Management |

What Does Image Management Mean to You?
Does it mean that folder somewhere on the network where you hold all your graphics projects? What about that stack of DVDs sitting on you desk? People have different ideas about how to organize their digital artwork and photos. But Brandon Services sees image management as a process or work-flow that can be manually organized or set up as an automated process. A manual system can take many formats. Typically it utilizes a system of file and folder naming conventions and a separate file to manage information on the image files (meta-data). Most dedicated software packages are configured to handle all aspects of the management process within its own environment. This usually includes incorporating meta-data management, generating thumbnails and previews, file management capabilities and printing support.
Is DAM a Swear Word?
Have you heard the term before? DAM. It stands for Digital Asset Managment. While not refering to a specific software title, it instead identifies a specific category of software, with specific tasks and goals relating to the management of digital images. There are so many different forms of DAM systems available that it's hard to pick one to start. The programs vary in their pricing and capacity. Many companies start by maintaining a manual system that uses file and folder naming conventions and their computer operating system's built-in image preview capabilities.
Entry level systems provide simple preview, metadata and file management abilities. A more sophisticated image managemeny system may include an internal database to manage image meta-data as well as file management capability. A networked multi-user system might incorporate standard or unique database engines and network storage. These systems provide an efficient multi-user environment, capacity and operations. The largest and most dynamic systems areEnterprise Level applications. These systems are custom programmable and provide a dynamic range of abilities.

Brandon Services Recommends Extensis Portfolio
For users new to Image Management, Brandon Services recommends the Extensis Portfolio Digital Image Management application. This off-the-shelf product provides a robust feature set with an economical buy-in. It's scaleable so it provides room to grow; it's easy to start small and grow your system. A program starts at around $200, but it can be scaled up to service several hundred users. The system is also cross platform, so it can mix well with a Mac production environment and a PC corporate system. As the system gets larger, it can use any of the standard database engines, such as SQL, Oracle or MySQL to insure database integrity and security. And finally its capacity is large enough to support any corporate or campus image collections.

Image Management Demonstration Site
Follow this link to view a sample web based image management system deployment over the web. This site was created entirely within Extensis Portfolio, using it's built-in ability to generate static web pages. Link...
Image Management Community Class Information
In conjunction with the City of Irvine, Brandon Services is providing a 1-day, 3-hour class on managing your digital images at home. The session will provide an overview on back-up strategies, On-Line hosting sites, meta-data and image tools. You can sign-up here for the next class scheduled in October. Brandon Services also provides resources to assist you in managing your images at home. Visit our "Class page" to find quick-tips, software and hardware recommendations and products for sale.